U.S. FDA dispatched personnel to inspect and audit Zhejiang Huangyan No. 1 Canned Food Factory
From December 13 to 14, 2010, the US Food and Drug Administration (Food and Drug Administration, referred to as FDA) sent investigator Jane Chen to the Zhejiang Huangyan No. 1 Canned Food Factory to inspect and audit. The first inspection of a food processing company.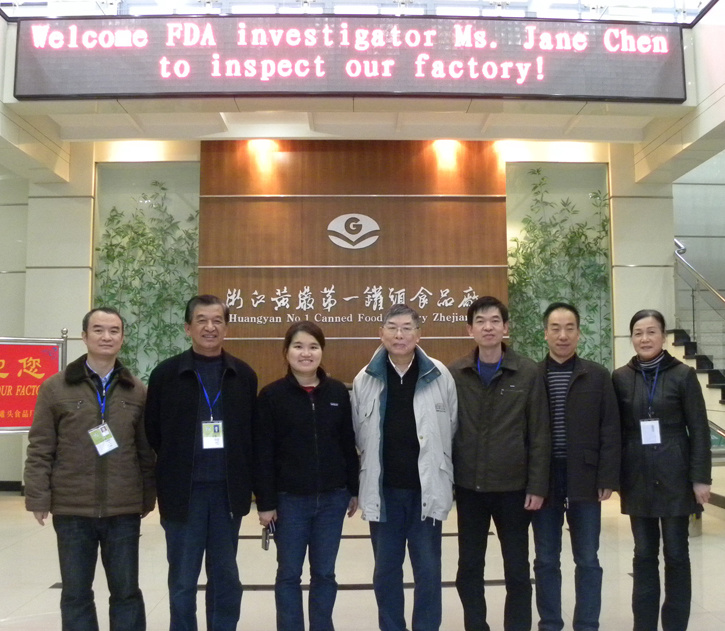 U.S. FDA officials asked to learn more about the company's basic situation and product information exported to the United States, comprehensively inspect the company's factory environment, canned food and condiment production workshops and warehouses, check management system operating procedures and records, and laboratory operations. Focus on the maintenance of building facilities, the sanitation of food contact surfaces, pest control, sanitation and control, and the control of key points to determine whether the company's production and operation comply with the relevant U.S. Code of Federal Regulations, Volume 21, Part 110, Good Operating Practices and 114 Partially acidified food regulations. After two days of rigorous and meticulous inspections, US FDA officials put forward rectification opinions on the application of check valves for soft water pipes used for floor cleaning in Zhejiang Huangyan No. 1 Canned Food Factory, and timely maintenance of construction facilities. The company immediately carried out corresponding rectifications. Or make a rectification plan. In the end, the US FDA will comprehensively evaluate whether the company meets the requirements of US regulations.
Since receiving the inspection notice from the US FDA in early November this year, in order to prepare for the US FDA inspection, Zhejiang Huangyan No. 1 Canned Food Factory has set up a special inspection team, and organized employees to comprehensively study and discuss the US FDA related Laws and regulations; At the same time, Taizhou Entry-Exit Inspection and Quarantine Bureau has increased supervision and assistance to enterprises, instructed enterprises to further improve management structure, strengthen capacity training of enterprise management personnel, improve enterprise self-inspection and self-control system, and require enterprises to rectify problems in time , Uniform deployment of the inspection work. Companies also took advantage of the US FDA's inspection and review to raise the level of production management capabilities to a new level.
---